Last night Jack and I had a sewing night.  My original plan was to work on "my" letters for my Foxes quilt.  Jack was in the  mood to join in!  He wanted to know if I would have enough of my orange fabric left over for him to use to make a pillow.  I sketched out my letters and then gave him the extra.  Guess what he did with it.  Yep, Jack decided he needed orange letters, too!
 
He wanted to use the rotary cutter to cut out his letters.  We started off using it for the F, but before long he figured out scissors would be easier.  He drew his letters on the back side of the fabric (backwards) just as I had done on the paper side of the wonder under. 
 
Then he laid out his black material and pinned his letters on it.
 
He is a whiz at sewing!  I taught him how to sew when he was 5.  He used to use a little machine, but was ready to move up to a full size before long.  His Grandma Media (Gag) gave him one for Christmas a couple of years ago.  Tonight he decided to use  mine since it was out and ready to go.
 
He knows to back-stitch at the start, and he puts the needle down when he adjusts the fabric for the turns.  Great job, Jack!  He gets a little pucker here and there, but he has come a long way!
 
He was so proud!  He decided it needed borders so it wouldn't be "plain".  He asked me to cut them for him and as he watched me start to  make the front side smaller to accommodate the borders he said, "Wait, let's have them wrap around to the back so the back side has something on it, too". 
 
Here is where he is at!  Jack asked if we could finish it up today.  He asked that we not make any other plans except to sew after school so that he could sew it and stuff it.  You betcha' Jack! 
Here is what I have planned for the FOXES quilt.  I am going to make a strip quilt.
 
and I am still having fun playing around with picnik for these pictures!  I need a little more orange fabric.  :)  The team colors are black and orange.
I wonder if I will finish this by our next game?  I would be amazed with myself.  I have 4 days. Hmmmmm....
Linking up to Fabric Tuesday at Quilt Story and WIP Wednesday at Freshly Pieced - fun places to go and see what others are making!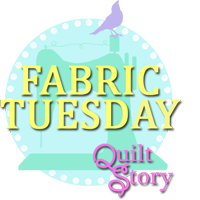 <3 Kris