I've taken a short break from blogging to paint the kitchen and let me just say, it's a happy place to be now!  It is a bright yellow at the far end of the kitchen in a space that I use for sewing.  It inspires creativity, let me tell you!  Here are some pics:
I organized all of my fabric, too!  I put fabric already deemed for a certain project in zip lock bags and put it away in the cupboards behind the sewing machine.  Now the family doesn't see stacks of "work in progress" all over the table.  Much better! 
 
Even the kitchen table is yellow!  I just need to sand it a bit so that the day to day scratches will blend in. :)
Meanwhile, Duke was happy to rest in the living room while I did all the work in the kitchen:
 
He sure LOVES to lay on the quilts I  make!  See how he has a treat tucked under his back paw for later when he is hungry?  He put it there! 
Ok so today I have been seeing lots of mug rugs on blogs these days and decided to make one today.  I am giving it to a friend who is going through a difficult time right now.  First, I bought the mug, then I pulled out some fabrics to  match.
 
I don't typically use much purple, but I really like it.  The big purple flower print is "Ribbon Dance" 
by Donna Wilder, a gift from my Mother-in-law. 
 
Just at the quilting stage now and have to stop.  Hope to have this finished up tomorrow!
 
and here is the back:
 
Why did I wait so long to use this fabric?  I love it!
Now - - thinking of appliquing on a hexi flower.  Too busy?  What do you think?
Linking up to Fabric Tuesday at Quiltstory!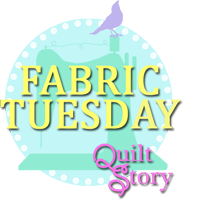 and we did it Wednesday!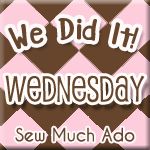 and Freshly Pieced!